"George's Estates Hotel" opened its doors to our Guests for the first time in May of 2000, being an expression of our family's approach to the hospitality and the service industry. We have since then expanded in size, having succeeded in our quest to better serve our guests and hope to keep doing so for many years to come.
The hotel complex is currently set in four large two-storey buildings, one of which is due to be completed soon. We are located in the heart of Stoupa town, on one of its quiet rural roads. We are only 120 meters from Stoupa's main bay and 100 meters from the main Kalamata highway. Here, at a very close distance, one can discover any of Stoupa's three beautiful beaches (Stoupa, Halikoura, Kalogria), which are exceptionally beautiful. Stoupa Bay being the largest beach offers a large variety of facilities for visitors at a short distance, such as tourist and gift shops, cafes, bars, tavernas, a bakery, pharmacy, supermarkets and many more.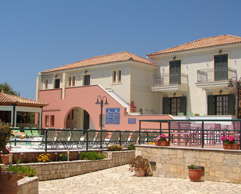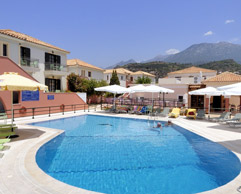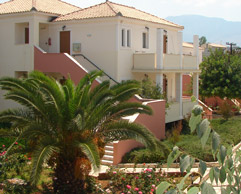 (- - - - - - - - - - - - - - - - - - click on the images to enlarge - - - - - - - - - - - - - - - - - -)
George's Estates Hotel, aside from its 33 spacious studios and apartments with views to the surrounding mountains, also offers a warm and welcoming reception and lobby, an evening bar with pool table and large screen televisions, and an outdoor swimming pool with pool bar. We are one of the largest hotels in Stoupa, operating seasonally from April until October. Join us for a tour and discover what we are about...