Café-Bar AKTAION was first opened up in 1995 by Thanasis Kostouleas, was the first café-bar to open in Stoupa and still one of the most popular.
(click on the images to enlarge)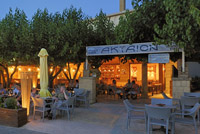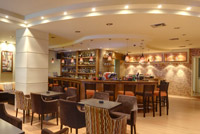 We are located right in the heart of Stoupa Bay being right in the centre of the beach. Being open all year round and with frequent design changes, café-bar AKTAION is the most modern and well established café-bar in Stoupa and the surrounding area. We offer a very large selection of cocktails, coffee drinks, ice-creams and food. Offering full beach amenities with sun beds and parasols, we invite you to enjoy our services...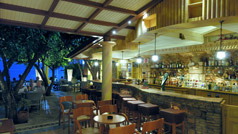 Whether you are looking for a breathtaking view while having one of our breakfast specials, wanting to watch a variety of sports on our large screen TVs, or wanting to try one of our large selection of cocktails whilst enjoying the beautiful sunset, café-bar AKTAION has something for everyone. With eight computers ready for internet and printing services, we also offer free Wi-Fi to our customers. We invite you to enjoy the experience and discover what we have to offer.
- - - - - - - - - - - - - - - - - - - - - - - - - - - - - - - - - -
Contact Information:
Owner: Thanasis Kostouleas, tel: (0030) 27210 77431.